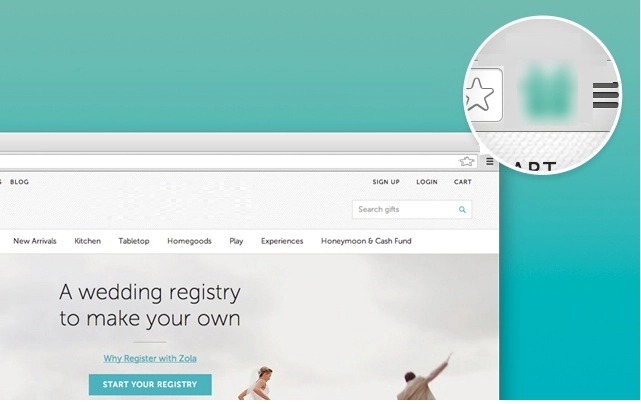 A Custom Chrome Extension for a Perfect Gift-adding Experience!
Project Goal
Gift registry platforms are helping people in The United States and other western countries to list preferred gift items for a particular occasion or event and share them with their loved ones. The concept is equally popular with online retailers because we have witnessed a significant surge in demand for gift registry software in recent years.
Our client had a universal gift registry software for U.S. and Canadian retailers, powering the registries of over 300 online businesses and servicing over 600 retail locations. Though his software was doing exceptionally well for his business, he wanted a custom chrome extension solution that let the users add any item to their gift list from any popular online store with just a click.
Solution
After understanding the objective we want to achieve with this custom chrome extension, our team started identifying the most relevant technologies to build it.
After choosing the most suitable technologies, experts at The Brihaspati Infotech successfully developed a chrome extension that is receiving tons of positive reviews from the users of the client's services. Let's look at some significant features our our custom browser extension.
Create and edit gift registries using custom browser extension
Earlier, the users need to visit the client's website and log into his account for the new gift registries. It was a time-consuming process and often resulted in a bad user experience. Our custom extension will allow the users to add and manage new registries in just seconds. All they need is to click on the extension, create a gift list, and start adding products from their favorite online stores.
✔️ Browse and add products from multiple stores
The custom extension we developed was equipped with the features to allow the users to browse products on any popular online store. Being a universal gift registry solution, not restricting the users to only a few eCommerce stores is one of the primary objectives behind developing this chrome extension.
The extension was also capable of locating the already created store registries and provides an option to sync them all to organize gifts in one place and let the users enjoy all the benefits of a universal registry.
✔️ Add any product to Wish list with just a click
The existing gift registry software of the client requires the users to log into and open the user account again and again for adding gift items to the registry. We removed this hassle by offering an option to add any gift item with just a click-on extension we created for the client.
✔️ Ability to preview notifications right from the extension
Getting notifications for the events, occasions, and gifts purchased is crucial to maintaining the gift registries. Instead of making users visit their accounts to check these notifications, we provided a simple option where users can check all these notifications by clicking on our custom chrome extension. Our motive behind including this feature was to provide an uninterrupted browsing experience to the users.
✔️ Google authentication for added security layer
We added a feature to use google authentication for the first-time installation. It was to ensure that clients get genuine users. We also ensured that our extension doesn't access the folders other than the promotion section to protect the personal emails of the users.
Final Words
These were some solutions that we provided with our custom chrome extension. Our client was happy to notice that the functionalities we added to his extension helped him achieve much more than his expectations. Some of these functionalities tuned into a winning factor for this extension with a high adoption rate among users of the client's services.
Get in touch if you need similar solutions to ease user journeys and extend your business reach using custom browser extensions. Our enriched experience of creating the right mix of technologies to build custom extensions will help you get unbeatable and lighting fast chrome extensions curated specifically for your business needs.
Client's Feedback
The team was great to work with. Every part of the process went as per the agreed schedule, and the finishedchrome extension met, and in most cases, exceeded my expectations.
Ready to discuss your requirements?