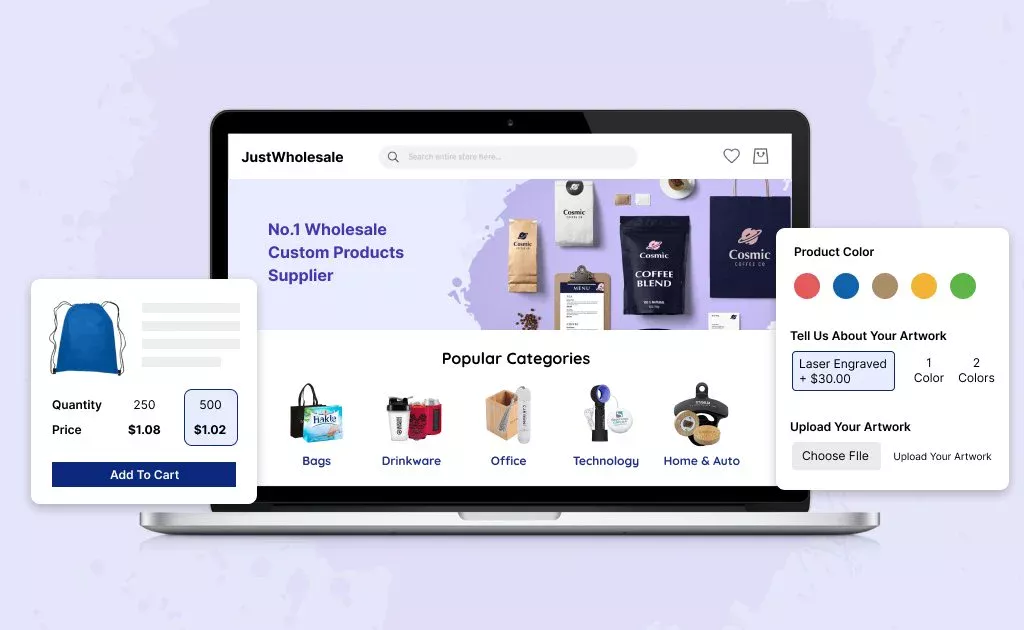 Custom Magento 2 Wholesale Store Like Alibaba
Project Goal
Branded Merchandise is a time-tested and popular way to build relations with customers and create brand awareness. While businesses around the globe prefer buying merchandise in bulk, it also caters a good profit driving opportunity for eCommerce sellers.
We got a chance to work with one such client willing to build a bulk-buying store that deals in customized branded merchandise. The goal was to develop a Bulk buying store from scratch and integrate custom codes and functionalities using Magento 2 technology.
Solution
Let's go through some of the solutions that helped us to offer the convenience of B2B commerce with some unique yet significant functionalities for this Magento 2 wholesale store dealing in custom merchandise.
✔️
Choosing The Right Theme
Being set to go live on the Magento platform, we have many theme options to build this custom eCommerce store. Selecting the right store theme to accommodate the customizations was the first challenge.
After examining the options, our experts recommended Jet Theme Pro for this store. Being one of the best themes to upgrade frontend design, its inherent capabilities to boost performance made it the best candidate for turning the client's vision into reality.
✔️
Coming Up With An Attractive Design
The next part was to choose the right design. As the internet is flooded with bulk-buying stores, a design with an element of uniqueness was important as well as challenging. Here is where the skills of our in-house Magento theme development team played a part.
We researched to analyze what works well in the industry and created a well-thought mock-up design that impressed the client on the first go itself.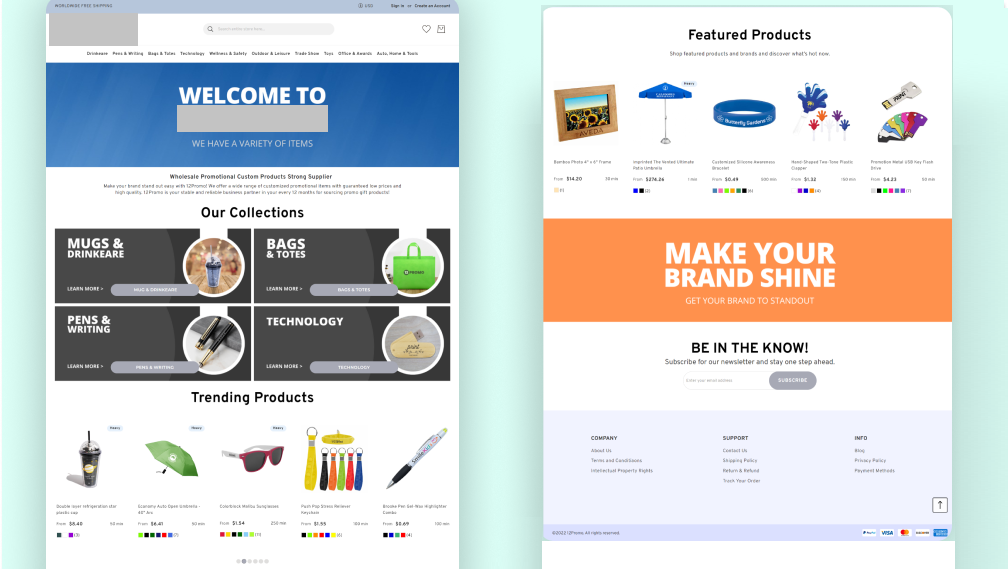 ✔️
Custom Script to Import the Products
Being a bulk buying store for custom merchandise, client needed to upload a huge number of products on a daily basis.The inability to upload and manage such a huge product catalog can turn into a mess.
To overcome it, our team created a custom script to import the products directly from the Excel/CSV sheets. The client just needed to upload a file containing product information, and his store was ready to sell them.
Apart from importing the products, the custom script created by our Magento experts has the following features too:-
Converting Prices from Yuan to United States Dollars automatically.
Check the file for product color options and add unavailable options automatically.
Add missing variant options like material and decoration to products.
✔️
Custom Shipping Extension
Efficient shipping channels play a vital role in the success of B2B custom merchandising stores. To streamline the shipping process for efficiency, we created a custom Magento shipping extension with the following three options:-
Economy Express.
Expedited Shipping.
DDP Sea Freight.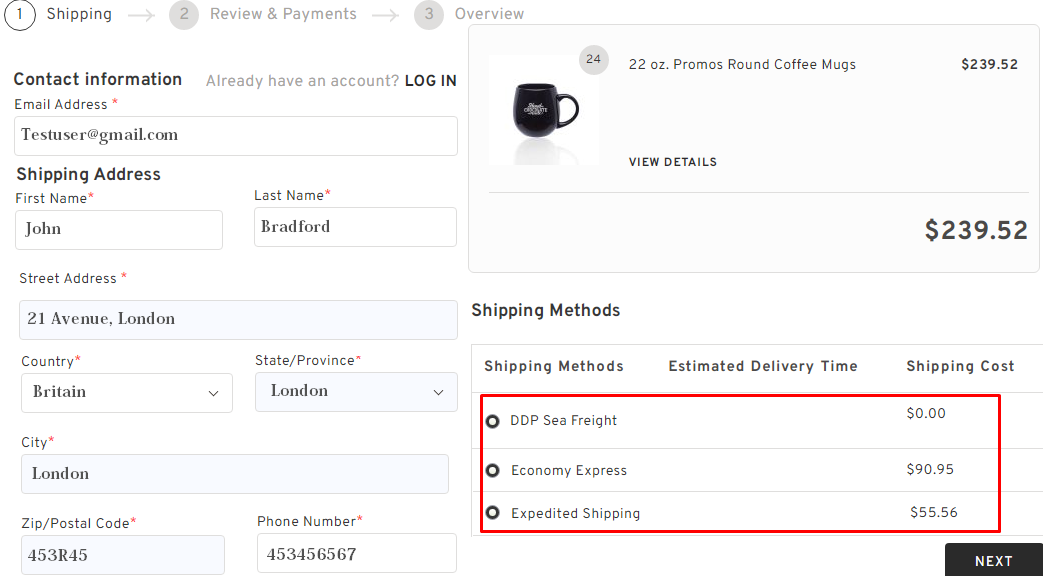 Apart from it, our shipping extension was equipped with the following features too:-
Calculate the shipping price based on weight and operation fee.
Calculating volume weight and actual weight to choose whichever is more.
Calculate Shipping charges as per tags assigned to products.
Compare the shipping cost from the following carriers for the lowest option:-

DHL
DDP Sea Freight
FedEx
SF Express
UPS
✔️
Custom Module for Country-Wise Shipping rates
As the store needs to target users on a global level, we can't afford to ignore the different shipping fee structures. Factors like local taxes, import duties, and more often create a substantial difference in shipping rates for different countries.
To overcome this hurdle, we created a separate module that allows the client to set up country-specific shipping rates. The module also provided an option to change/update the shipping rate at any time.
✔️
Custom Module for Bulk Prices
Site visits are one of the inseparable parts of the property buying and selling process. Availability on the site at the right time is a deciding factor for a successful deal by any real estate agent.
The next big thing was integrating a module with custom unit and price rules. Though it was achievable through pre-built extensions but none of them were able to satisfy below custom requirements that we need to accommodate:-
Calculating prices in Yuan and displaying them in USD.
Accommodating complex formulas for calculating product prices.
Ability to accommodate specific quantities by the buyers.
Calculating the prices for products in excess of the bulk quantity limit.
So we decided to go with a custom extension for setting up bulk quantities and prices for the products on the client eCommerce store.
✔️
Option to Add/Upload Artwork
Custom merchandise often involves artwork being printed on the products. We integrated a custom option to assist the buyers with adding unique artworks. They can upload images of their artwork on the product page itself with comments for instructions.
✔️
Custom Printing Fee Module
Custom-branded Merchandise involves a lot of printing, and printing prices often vary from product to product. To overcome this challenge, we created a custom module with the ability to calculate the printing prices for each product listed in the client's store.
✔️
Custom Request for quote extension
We built and integrated a custom extension for requesting quotes. It enabled the users to negotiate over specialized products and higher quantities. We targeted more leads generation and conversions with the following features in our custom request for quote extension:-
Enabling users to create quotes
Giving the ability to manage quotes
Boosting better price proposals
✔️
Module to Display Featured and Trending Products
Earning more revenues from products that already sell well or featuring new arrivals/products work well for almost every eCommerce store. With this in mind, we built a custom module to display features and trending products to the users.
Final Words
So these were some features we added to the custom-branded merchandise bulk-buying store of one of our prestigious clients. Apart from accommodating every desired feature, we delivered this project almost a month earlier than the set target date.
It was a great honor to work with such an ambitious entrepreneur and his positive feedback was a great milestone to reflect the proficiency of our Magento development company. If a similar bulk-buying store with enhanced customization is something that you are looking for, we are just one click away!
Client's Feedback
Working together with TBI was a great experience for me. I am glad to find out how they translated my requirements into a robust and reliable magento store with custom features for my wholesale business.
Ready to discuss your requirements?