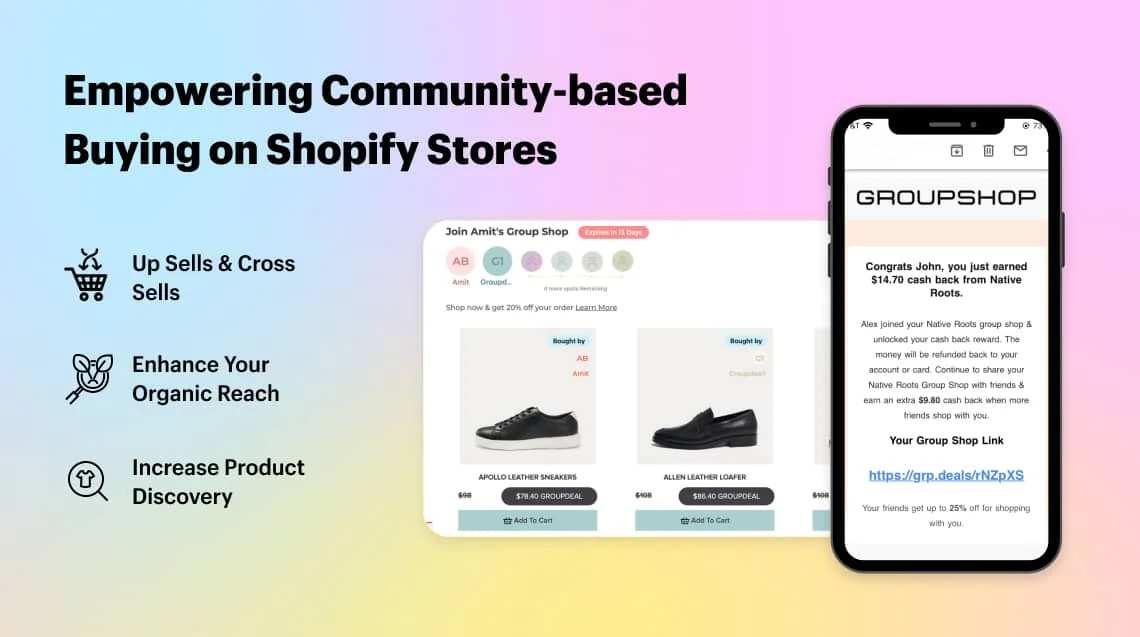 Group Shop – Application to facilitate Group Buying on Shopify
Project Goal
️Community buying is turning into some of the most prominent eCommerce practices beneficial for both merchants and customers. Merchants/ Store owners can multiply their profits by selling more products without bothering about advertising spend, and buyers can exploit exclusive discounts and cashback by availing group buying options.
One of our clients came up with an innovative idea to facilitate the Shopify store owners to reap the benefits of the community-based shopping practices.
Our goal was to provide a community-based shopping application to the Shopify store owners so that both merchants and buyers can harness the advantages of community buying. We need to provide a solution that can allow buyers to get cashback and discounts by creating a referral network.
Solution
We developed the application using HTML and CSS so that we can enhance the user experience by providing below features in our Group Shop application for Shopify:
✔️ A dashboard that keep store owners always in the driving seat
A flawless dashboard to keep merchants in the driving seat was a primary feature that our client wanted us to add to the Group Shop Application. Keeping this in mind, our team designed a custom dashboard that allows the merchant to create campaigns effortlessly.
We knew that Analytics is key to creating successful group buying campaigns. Our application offers a separate section where merchants can analyze the performance of past and current campaigns to get insights for creating future campaigns. It also helps the merchants identify what types of deals or products work best for community-based buying campaigns.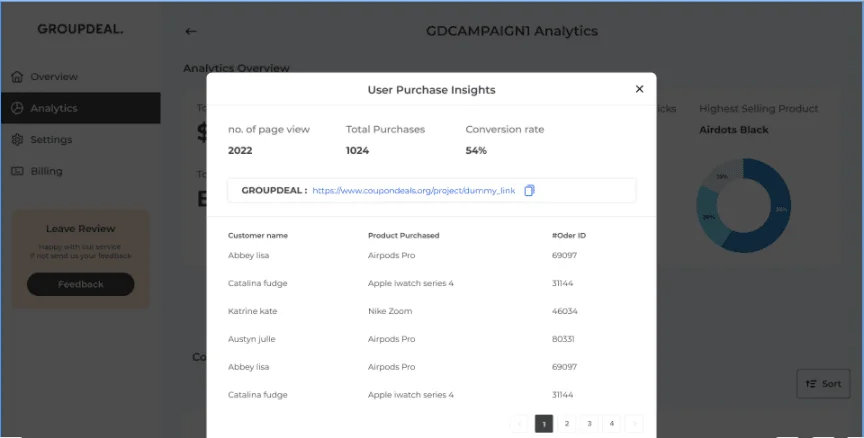 To provide more functionalities to the merchants, we offered some exclusive features under the settings section. These settings help merchants to customize the appearance of group deals thus, making them more appealing.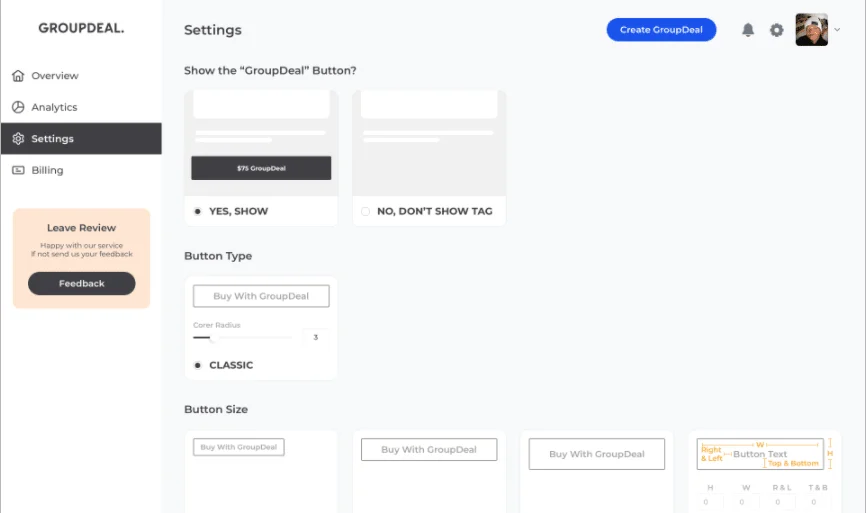 ✔️ Simplifying the process of adding products to the campaigns
️Our developers were familiar with the drawbacks of existing community-based shopping platforms. The most innovative feature that we offered in this application was the way to add the products. Merchants got the liberty to add products directly from their stores even without having any technical know-how. Once a merchant creates a campaign, he will get the option to add products to it automatically.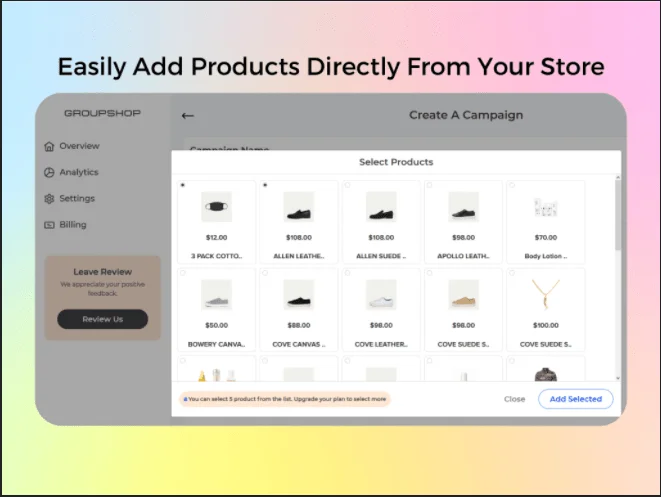 ✔️ Creating a personalized Group Shop page with every purchase.
️We offered a feature to create a personalized Group Shop page automatically when users make a purchase. The users have an option to share that page or, they can buy discounted products from that page too.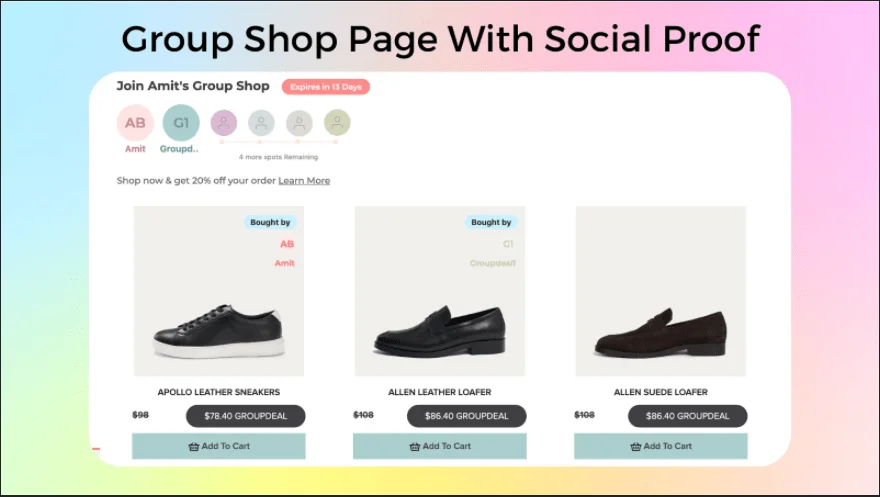 ✔️ Providing a separate section on checkout page to fetch the link of Group Shop page
️We offered a custom section on the checkout page from where the users can copy and share the link of their Group Shop page. It will help them to earn cashback with every successful purchase. People referred by your link can save an extra discount on the products listed on your Group Shop page.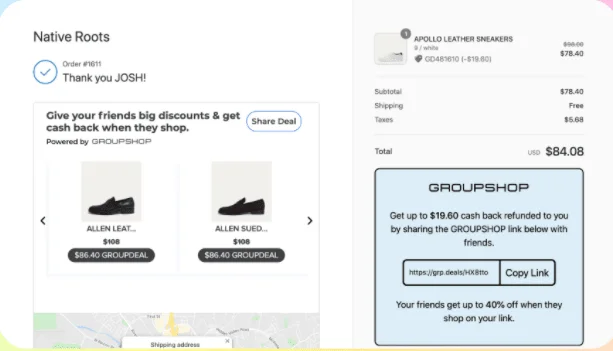 ✔️ Keeping the application friendly for the Mobile Users
️Ignoring the potential of mobile users is one of the vital mistakes that App developers make while designing and developing the Applications for Shopify. Our developers know how important it is to keep application friendly for mobile users. We created Group Shop with a responsive design to fit screens of any size without impacting its user experience.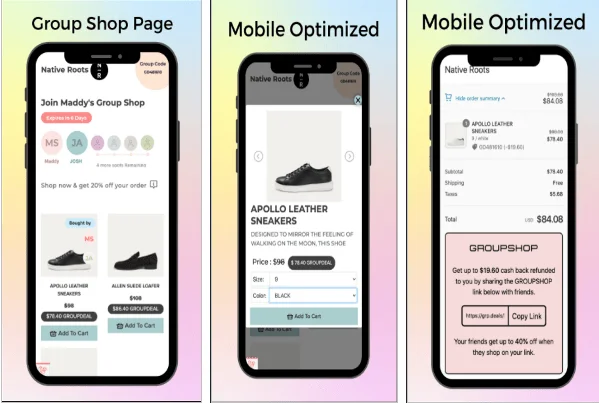 Final Words
️So this was about how we created a successful Shopify App to facilitate the merchants and customers with group buying features. Our client was extremely satisfied with the outcome and dedication of TBI's development team. If you are also looking to develop similar innovative applications for any ecommerce platform, you should get in touch with our experts today!
Client's Feedback
"TBI did an amazing job on my project, they were very professional and made sure that all aspects of my project were covered. I would definitely work with TBI again in the future. The communication was great and the pricing was fair and precise."
Ready to discuss your requirements?