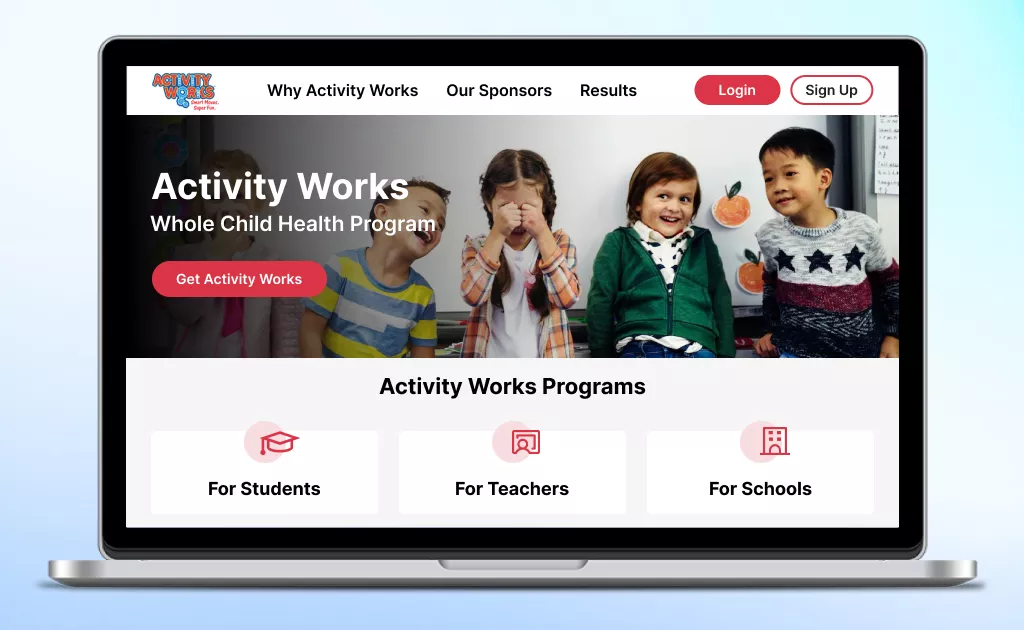 LMS With In-Classroom Physical Activity Solution
Project Goal
With the Global LMS market projected to reach the $41 Billion mark by 2029, demand for smart and interactive e-learning platforms has seen remarkable growth. While it's easy to find LMS solutions for hosting and deploying courses, can you name any that promote physical activities too?
Well, we got a chance to work with a client who wanted to build a curricula-aligned, in-classroom physical activity solution for educational institutes. Our Goal was to understand his vision and come up with ideal features and functionalities for this unique learning management solution.
Solution
Though we had a seasoned team with expertise in custom LMS development, this project was quite complicated due to the unique functionalities it demands. We need to reinforce multiple pathways to learning via visual, audio, and kinesthetic models.
✔️
Multi-Sensory Design for Modern Classrooms
The multi-sensory design was one of the most essential things we needed to make this LMS solution stand out from its counterparts. As mentioned above, we need a curriculum-aligned solution scripted to reinforce learning objectives and physical exercises in a specific manner.
✔️
Attendance Tracking
We integrated an attendance tracker feature that automatically asks for attendance If the tutor has a full house for attendance, the students will enjoy a short celebratory display before starting the class.
✔️
Option to Add students using CSV
Adding students to classrooms or courses is one of the areas where most LMS solutions fail. Here, we are talking about the ability to add and invite students for conducting the sessions.
To ease this process, we provided an option letting tutors add students either using their emails or a CSV profile consisting of multiple emails to add multiple students at once.
✔️
A fun-filled way to display and play episodes
Our custom LMS was all about bringing fun to e-learning initiatives by schools. To make it even better, we offered an appealing UI with moving gifs while ensuring maximum accessibility. The idea was to make UI navigation easy and adaptable for both web and mobile devices.
✔️
Ability to create Challenges
The tutors and students were given the option to create challenges using their dashboards. The teachers can create challenges for other teachers to complete specific activities available with our custom LMS. Similarly, the students can also create challenges for other students.
✔️
Ability to create Goals
An option to set goals by teachers and students was another unexceptional feature we added to this platform. As different students/teachers may have different objectives and curriculums, setting goals can act as a crucial factor to clarify the purpose of taking the courses and outcomes that expect.
✔️
Option to customize classroom dashboard
Teachers were provided an option to customize the look and feel of their classroom dashboard while using our custom LMS solution. They were given the following options to make e-learning experiences for their classroom more engaging and productive:-
Ability to add mascots
Background images to spruce up the dashboard
✔️
Display District-wide or in-school rankings
Both tutor and student dashboards were equipped with features that show how the classroom is ferrying in the competition. These rankings were based on the number of challenges completed and calories burned by the whole class during the activity.
✔️
Ability to create Avatars
Avatars are one of the most useful objects with the ability to make e-learning more interesting. The students were provided with an option to create avatars that can be used with their profiles. Apart from it, we also used avatars to support the content for making courses more interesting.
✔️
Gamified animal welfare education
The client also wanted to integrate the features to let students access gamified animal welfare education episodes. So, to make it happen we integrated interactive and gamified episodes to promote knowledge, understanding, skills, attitudes, and values related to human involvement in the lives of animals.
Final Words
These were interesting features that we added to a custom learning management solution for one of our esteemed clients. If you wish to build a similar solution, our experts can help you decide and implement features that can be helpful to achieve your goals.
Building your education and training programs takes planning for creating, managing, and delivering training programs to your audience. Contact our team today, and let's find out and deliver what the idea in your mind needs to become a real-world solution.
Client's Feedback
We are having a lot of positive feedback about our new LMS. We strongly recommend The Brihaspati Infotech as a reliable and fully transparent partner focused on long-term business relationships.
Ready to discuss your requirements?